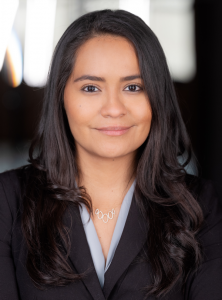 Alejandra (Alex) Contreras Macias
Massey & Gail LLP
50 East Washington Street
Suite 400
Chicago, IL 60602
Office: 312.283.1590
Direct: 312.379.0752
Fax: 312.379.0467
Alejandra Contreras Macias is an experienced complex commercial litigator. She has represented banks, pharmaceutical companies, insurance companies and sporting bodies in multi-party and class action suits through all phases of litigation. She has guided clients through complex issues of class certification, derivative suits, and secured transactions.  Alejandra skillfully manages the demands of complex cases such as working with numerous co-counsel and investigative agencies. Her cases routinely require massive e-discovery efforts, and she is experienced at leading large document review teams.
After graduating from the University of Rochester, Alejandra worked as a paralegal in two New York law firms before attending New York University School of Law.  Alejandra has a long-standing commitment to immigrant rights. During her time as a paralegal, she assisted with pro bono immigration cases.  In law school, she represented an immigrant in deportation proceedings through the NYU Immigrant Rights Clinic. Alejandra also spent the summer after her first year of law school interviewing dozens of immigrant victims of sex trafficking to file T-Visa applications.
At NYU, Alejandra was a member of the Latino Law Students Association and an editor for the NYU Journal of Legislation and Public Policy. She is passionate about immigrant rights, women's rights, and education. She is currently serving on the board of directors of Chicago Debates.
Alejandra is fluent in Spanish.