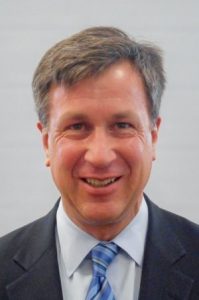 Mark W. Page
Massey & Gail LLP
50 East Washington Street
Suite 400
Chicago, IL 60602
Office: 312.283.1590
Direct: 312.379.0720
Fax: 312.379.0467
Mark Page has over twenty-five years of experience in all aspects of bankruptcy cases and enforcement of creditors' rights. Over the years, Mark has gained extensive experience and expertise in bankruptcy, other insolvency proceedings, and related litigation, including appeals. As Vice President and Assistant General Counsel at the First National Bank of Chicago (later Bank One and then JPMorgan Chase), he learned the ins and outs of protecting and advancing the diverse interests of a large financial institution in a variety of complex bankruptcy, insolvency, bank group, and litigation matters.
Mark has used his thorough understanding of the bankruptcy process to protect and prosecute the interests of virtually every type of bankruptcy and insolvency participant. He has obtained favorable results for financial institutions, secured and unsecured creditors, co-PRPs, financial contract participants, contract parties, insurers, receivers, landlords, debtors, plan administrators, and liquidation trustees in complex financial restructurings, corporate reorganizations, receiverships, and liquidations, as well as related litigation, including appeals. His experience spans a wide array of industries, including financial services, maritime shipping, telecommunications, airline, retail, commercial real estate, gaming, technology, manufacturing, mining, and energy. He has handled fraudulent transfer, Ponzi scheme clawback lender liability, lien perfection and priority, environmental claim estimations, and insolvency related lawsuits in federal and state courts. He has also successfully addressed all manner of disputes under the Uniform Commercial Code, both in and out of court.
Mark is a 1991 graduate of the University of Minnesota Law School, cum laude, where he was a Research and Note Editor for the Minnesota Law Review. After clerking for a U.S. Claims Court judge and a bankruptcy judge, Mark practiced at Sonnenschein Nath & Rosenthal (now Dentons), JPMorgan Chase, and Kelley Drye & Warren.
University of Minnesota Law School, J.D. cum laude, 1991
University of South Carolina, South Carolina College (Honors College), B.A., B.S. magna cum laude, 1986
University of Kent at Canterbury, Junior Year Abroad, 1984-1985
The Honorable Bohdan A. Futey, U.S. Claims Court (now the U.S. Court of Federal Claims) 1991-1992
The Honorable S. Martin Teel, Jr., U.S. Bankruptcy Court for the District of Columbia, 1992-1993
Illinois
United States Court of Appeals for the Seventh Circuit
United States Court of Appeals for the Eighth Circuit
United States Court of Federal Claims
Research and Note Editor, Minnesota Law Review
Dean's List 1988-1991, University of Minnesota Law School
Phi Beta Kappa, University of South Carolina
Alumni Scholarship 1982-1986, University of South Carolina
Carolina Ambassador Scholarship 1984-1985
Supreme Court Rules Rejection of Trademark License Does Not Rescind Rights of Licensee, 36 Bankr. Strategist No. 10, at 1 (Aug. 2019)
The Ripple Effect of Rejecting Trademark Licenses, 35 Bankr. Strategist No. 6, at 1 (Apr. 2018)
An "Apex" that May Be a Turning Point: Ruling in Oil Company Case Holds Debtor Responsible for Cleanup Obligations, 35 Connecticut L. Tribune No. 39 (Sept. 28, 2009) (Co-Authored)
A Quagmire of Obligations: Making Sense of the Intersection of CERCLA and the Bankruptcy Code, 25 Bankr. Strategist No. 7 (May 2008) (Co-Authored)
The Undercapitalized Corporation and Illinois Corporate Veil Piercing Law, 88 Ill. B.J. 398 (July 2000)
Is the Retainer Held by Debtor's Counsel Lender's Cash Collateral?, 33 Bankr. Ct. Decisions, Issue 24, at A3 (Mar. 23, 1999) (Co-Authored)
Discharging Environmental Claims in Bankruptcy, 16 Bankr. Strategist No. 3, at 6 (Jan. 1999) (Co-Authored)
Absence of Unusual Collection Efforts Does Not Absolve Creditor of Preference Liability, 16 Bankr. Strategist No. 2, at 1 (Dec. 1998) (Co-Authored)
More Difficulties for Debtors in Discharging Cleanup Duties, 14 Bankr. Strategist No. 8, at 4 (June 1997) (Co-Authored)
Asset Buyer Exposed to Successor Liability, 11 Bankr. Strategist No. 9, at 5 (July 1994) (Co-Authored)
Comment, Price v. Viking Penguin, Inc.: The Neutral Reportage Privilege and Robust, Wide Open Debate, 75 Minn. L. Rev. 157 (1990)
Successfully prosecuted major financial institution's rights and claims under six trade-finance deals totaling $80 million and under parent guaranties of deals in chapter 11 bankruptcies in Delaware bankruptcy court of large paper machinery manufacturer and its guarantor parent company, and UK administration proceeding of their English affiliate.
Successfully defended syndicate of major financial institution against fraudulent transfer claims in Illinois state court.
Successfully defended major financial institution against Ponzi scheme clawback claims brought by chapter 7 trustees in Illinois and Florida bankruptcy courts.
Successfully protected and furthered interests of global oil and gas company as claimant and co-PRP at multiple sites in chapter 11 bankruptcy of major mining, smelting, and refining company, the largest environmental bankruptcy to date (Asarco).
Represented bankruptcy plan administrator in post-confirmation wind-down of large ethanol producer, suing to recover deposits under contracts and obtain multi-million preference recoveries, and significantly reducing claims pool through formal and informal claims objections. Represented number of liquidation trustees in similar post-confirmation wind-downs, obtaining similar results.
Filed amici briefs for co-PRPs in Seventh Circuit Court of Appeals and U.S. Supreme Court opposing grant of certiorari, concerning scope of discharge in bankruptcy of environmental cleanup obligations.
Represented financial contract participant in chapter 11 bankruptcy in Manhattan bankruptcy court of its global financial services firm counterparty, the largest financial services company bankruptcy to date (Lehman Bros.).
Represented large bank in determining whether and when to take $18 million tri-party setoff.
Successfully represented large bank in UCC priority dispute with two other creditors of bankrupt book distributor and in defending against chapter 7 trustee's subsequent lawsuit in Delaware bankruptcy court to avoid bank's liens and recover $12.5 million in alleged preferences.
Represented large bank as administrative and collateral agents for bank groups with large secured warehouse loan claims in chapter 11 bankruptcies in Dallas bankruptcy court of mortgage lenders and in related $6.4 million setoff dispute with third party.
Defended large bank in chapter 7 trustee's lawsuit in Chicago bankruptcy court to recover alleged preferences and fraudulent transfers and asserting lender liability tort claims.
Represented indenture trustee in chapter 11 bankruptcy in New Jersey bankruptcy court of large casino operator.
Represented receiver of major power company in federal equity receivership in Manhattan federal district court.
Represented large bank in efforts to settle chapter 7 trustee's threatened $17.5 million preference action in Chicago bankruptcy court.
Represented major bank as administrative agent and bank group member in numerous bank group disputes.
Successfully argued and briefed appeal to U.S. Court of Appeals for Eighth Circuit of novel bankruptcy preference issue.
Represented insurer in mass tort bankruptcy in Dallas bankruptcy court of manufacturer of polybutylene plumbing system, including related litigation with appeals to U.S. Courts of Appeals Fifth and Seventh Circuits.
Represented financial advisor in obtaining dismissal of chapter 7 trustee's malpractice claims based on res judicata effect of Western District of Texas bankruptcy court's fee allowance order.
Successfully defended credit card company in $2.8 million fraudulent transfer action brought in Chicago federal district court by receiver of consumer debt collection agency that operated fraudulent debt collection scheme.