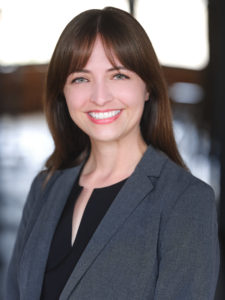 Kate M. Bjorklund
Diversity, Equity, & Inclusion Committee Member
Massey & Gail LLP
50 East Washington Street
Suite 400
Chicago, IL 60602
Office: 312.283.1590
Direct: 312.379.0747
Fax: 312.379.0467
Kate Bjorklund is a business and commercial litigator. Before joining Massey & Gail, Kate was a litigation associate at Stinson LLP in Minnesota, representing clients in matters ranging from consumer fraud, trade secrets, bankruptcy, and contract disputes. Kate also maintained an active pro bono practice, focusing primarily on tenants' rights and family law.
Kate graduated magna cum laude from the University of Minnesota Law School in 2019, where she was a student director in the Family Law Clinic and the Lead Managing Editor of Law & Inequality: A Journal of Theory and Practice. After law school, Kate clerked on the Minnesota Supreme Court for the Honorable Natalie E. Hudson and the Honorable Margaret H. Chutich. Following her clerkship, Kate volunteered as a law clerk at Gender Justice, where she conducted legal research and drafted briefs concerning Title VII, Title IX, and MHRA issues.
Prior to attending law school, Kate worked for three years in the non-profit sector. She worked as a Benefits Counselor at an AIDS Service Organization in Minnesota, ensuring that her clients could access and maintain health insurance. Before that, Kate served as the Communications Director at a student-organizing non-profit in San Francisco that raised funds to support the work of Partners In Health.